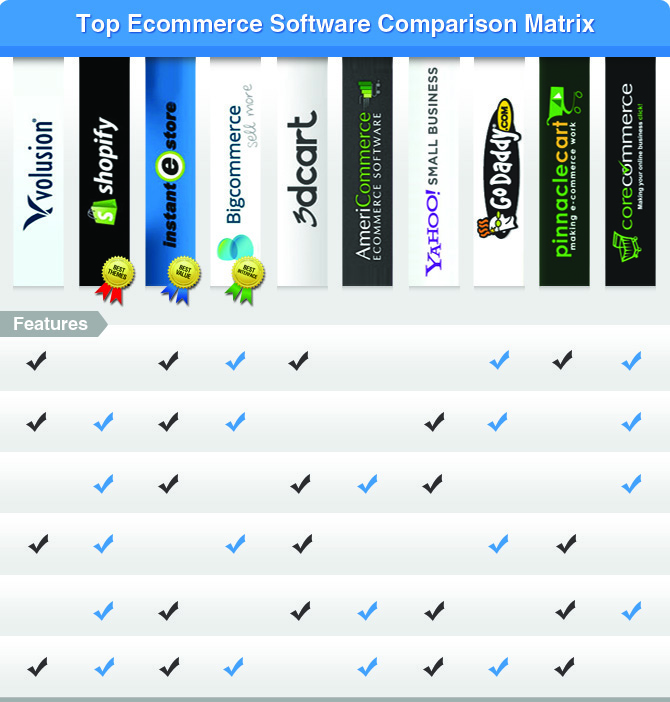 If you have taken a look at our top ecommerce shopping cart software comparison matrix, you would have noticed that all in all, the features provided by the ecommerce solutions we've reviewed are almost even across the board. The major difference is that some providers offer them for free and a few others might charge for it.
Whichever ecommerce website builder software you choose, you should make full use of these features to help grow your sales.
Cross Sell
What is it?
Cross selling is when you suggest products which you think shoppers might be interested in after taking into account the products they have been looking at, added to cart or just bought.
What Kind Of Figures Are We Talking About Here?
A survey carried out in 2009 showed that approximately 35% of Amazon's sales can be attributed to cross-sales. Of course, Amazon has invested in a highly advanced algorithm which tracks everything and suggests products which makes sense to the buyer.
The shopping carts of today do have such technology to offer merchants so cross sell suggestions can set to random (automatic), based on certain criteria (items bought together with selected item) or manually selected. The last option take more time and effort but has the best conversion rate. Up to 15% in some cases.
Salvaging Aborted Orders
On average, 7 out of 10 shopping carts are abandoned for various reasons. Some of those reasons are: Too high shipping costs, too long a checkout process, shoppers simply comparing overall pricing and, lastly, feeling insecure when taken to third party site/page to complete payment.
Salvaging aborted carts is a hassle free process with almost all ecommerce website builder software weve reviewed. For most carts, all a merchant needs to do is activate the feature and an email will be sent within 48 hours to shoppers who have aborted their carts. Merchants are allowed to fine tune the emails if theyd like. In fact, it is encouraged.
The success rate for salvaging abandoned shopping carts can be as high as 18%. Some stats have shown that the average success rate is just under 10%, which is still better than a big fat zero.
One-Page Checkout
One-Page Checkout, Quick Checkout or Guest Checkout is a great feature to remedy shoppers who just could not be bothered with the usual 3 page checkout process. It is actually one of the ways to combat shopping cart abandonment.
This option will address the 14% of shoppers (refer to this infographic) who dump their carts because of the lack of this option.
Summary
Shopping carts today come with all sorts of really useful features. Many merchants decide on which cart to use based on these features but only a small percentage of users make use of them after sign up. That's like buying a Lamborghini because of its speed and not taking it to the track to unleash its full potential.
The features above are just some of many which have the potential to add to the bottom line of your store. Please unleash them.